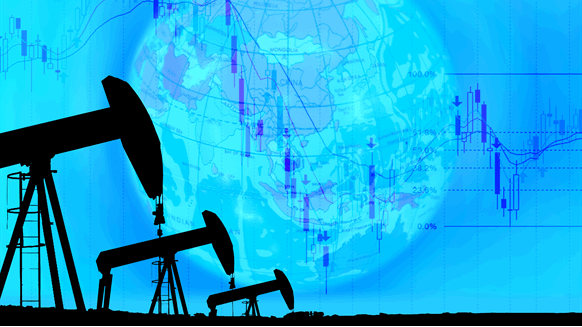 WTI and Brent crude oil futures declined for the fourth consecutive trading day.
West Texas Intermediate (WTI) and Brent crude oil futures declined for the fourth consecutive trading day.
The WTI for August delivery lost $1.48 Thursday, settling at $55.30 per barrel. At one point, the light crude marker fell to $54.72. At the opposite end of the intraday range, the WTI peaked at $57.32.
The September Brent contract price settled at $61.93 per barrel, reflecting a loss of $1.73.
As Bloomberg reported earlier Thursday, oil was down amid fears of slackening fuel demand in the United States. For the week ending July 12, 2019, U.S. total gasoline inventories added 3.6 million barrels from the previous week to reach 232.8 million barrels, the U.S. Energy Information Administration (EIA) reported Wednesday. During the same period, U.S. commercial crude inventories fell by 3.1 million barrels to 455.9 million barrels, EIA also stated.
Worldwide, seasonal crude oil draws have slowed by 10 million barrels this week compared to the previous week's draw, Orbital Insight reports in a commentary emailed to Rigzone. Year-on-year, the global inventory surplus has narrowed to 3 million barrels compared to last week to stand at 169 million barrels, the firm added. Last week, Orbital Insight reported a global draw of 14.75 million barrels and a year-on-year global inventory surplus of 172.76 million barrels.
Orbital Insight also noted that oil stocks in OPEC countries rose "modestly" by 1.74 million barrels in the past seven days and by 43.11 million barrels compared to the corresponding period in 2018. For the United States, total inventories are down 830,000 barrels for the week but up 27.87 million barrels year-on-year, the company states. Orbital Insight also reported that levels in the oil storage hub of Cushing, Okla., are up 270,000 barrels for the seven-day period and up 20.33 million barrels from a year ago.
Reformulated gasoline (RBOB) also finished lower Thursday. The August RBOB contract shed nearly 4.5 cents to settle at $1.83 per gallon.
Losing nearly two cents Thursday was Henry Hub natural gas for August delivery. The gas futures price ended the day at $2.29.
SOURCE: RIGZONE.COM